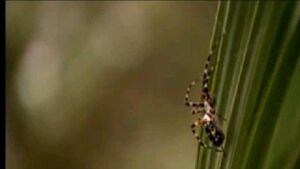 Spiders
(order
Araneae
) are air-breathing arthropods that have eight legs and chelicerae with fangs that inject venom. They are the largest order of arachnids and rank seventh in total species diversity among all other orders of organisms. Spiders are found worldwide on every continent except for Antarctica, and have become established in nearly every habitat with the exceptions of air and sea colonization. As of 2008, at least 43,678 spider species, and 109 families have been recorded by taxonomists; however, there has been dissension within the scientific community as to how all these families should be classified, as evidenced by the over 20 different classifications that have been proposed since 1900. Spider-like arachnids with silk-producing spigots appeared in the
Devonian
period about 386 million years ago, but these animals apparently lacked spinnerets. True spiders have been found in
Carboniferous
rocks from 318 to 299 million years ago, and are very similar to the most primitive surviving order, the
Mesothelae
. The main groups of modern spiders,
Mygalomorphae
and
Araneomorphae
, first appeared in the
Triassic
period, before 200 million years ago.  
We only see it in one scene in the late Cretaceous segment. A spider is sitting on a plant. It was live-acted.
Ad blocker interference detected!
Wikia is a free-to-use site that makes money from advertising. We have a modified experience for viewers using ad blockers

Wikia is not accessible if you've made further modifications. Remove the custom ad blocker rule(s) and the page will load as expected.