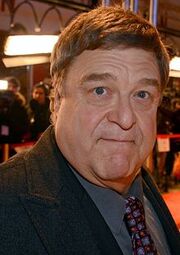 'John Stephen Goodman' (born June 20, 1952) is an American theatre, film and television actor. Early in his career, he was best known for playing Dan Conner on the television series Roseanne (1988–1997), for which he won a Best Actor Golden Globe Award in 1993. Goodman is also a prolific voice actor; among other roles, he played Baloo in the Jungle Book 2 and Sulley in Monsters, Inc. (2001) and Monsters University (2013).
He is the narrator of When Dinosaurs Roamed America. 
Ad blocker interference detected!
Wikia is a free-to-use site that makes money from advertising. We have a modified experience for viewers using ad blockers

Wikia is not accessible if you've made further modifications. Remove the custom ad blocker rule(s) and the page will load as expected.